The Free-Dom database may be relevant to your needs if you are:
- planning to introduce a Condom Distribution Scheme in your area
- thinking of upgrading your current condom distribution scheme to a more comprehensive system
accessible and secure
Can be accessed from any location with an internet connection. Includes strong password control and data encryption (SSL) for all personal data.
Tried and tested
Used by over 1800 health professionals across 600 Access Points. Over 25000 young people have been registered and 500,000 condoms distributed.
flexible access privileges
Range of input screens which reflect the needs of each user, from a simple search and input screen for reception areas through to full control and reporting for administrators
self-registration
Includes self-registration and ordering module for young people to register, receive their c-card, then log in and order supplies.
Comprehensive reporting
Includes a comprehensive selection of built-in reports for individual access points and detailed summaries for C-Card administrators..
Easy set-up
Usually available to use within 2-3 weeks after the initial consultation, including any customisation required.
Have a look now
Get a login to the C-Card Admin System Demo and take a closer look. Send us an email mentioning why you're interested in the system.
Request a login
C-Card Admin Database
Registration
C-Card Code auto-generated, or taken from pre-printed cards
Young person's (YP) full name or just initials
Age calculated from D.O.B.
Full or part postcode
Postcode format check
Auto entry of Ward and LSOA if local postcode database is available
Customised Ethnicity list
Customisable 'Subjects discussed' fields
Option to set Quota eg. U13yrs- 2 for experimentation; u16 yrs - 8 condoms; over 16yrs – 12
Fraser competent check for u16s
YP consent check
Send email to admin if u13 yr old
Expiry date option
Duplicate record check
Option to change C-Card number, or re-issue lost card
Chlamydia test option
Pregnancy test option
Option to delete records for C-Card Administrators
Order Form
Customisable Order Form for re-ordering supplies by Access Points
Make, Type, Quantity, Cost of condoms and other products
Sent by email to supplier or to local C-Card Admin
Request a login
Visits
Quantity and type of condoms supplied each visit
Option to add other products supplied, eg: Chlamydia Screening Kit
Quota check
Option to check 6th visit for repeat interview
Login
Secure log in - password must be changed every 60 days
Option for user to change password
Email link to technical support
User's Access Point tracked from first log in
Access Points
Customise name for menus etc. eg: Distribution Point, Service, Venue etc.
Search by name, postcode, whether 'live' etc.
Enter contact details and opening times
Show Access Point details on public-facing pages on local SH website or public-facing page linked to database
Choose which Access Points to show to public
Enter Access Point details but make 'live' later
Create Google map of Access Points
Reports
Reports for each Access Point
Summary and Global Reports for C-Card admin only
Customised reports available
Self-Registration Module
Sample screens for online self-registration and ordering.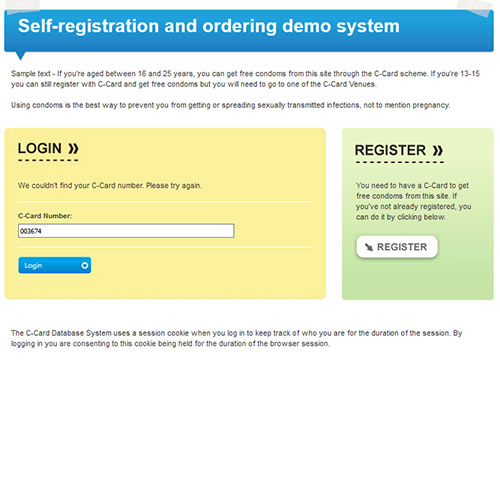 Login or Register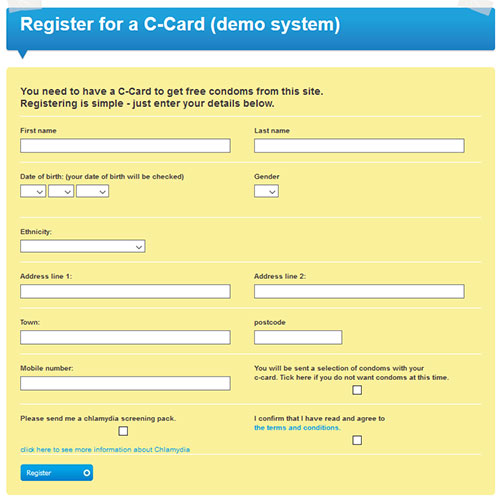 Register screen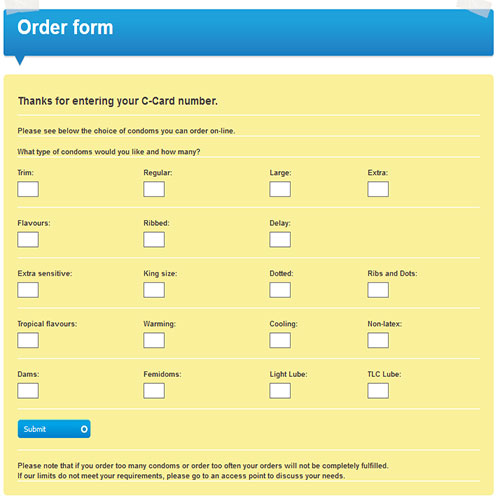 Ordering screen